Dr. Jean-Pierre Khreich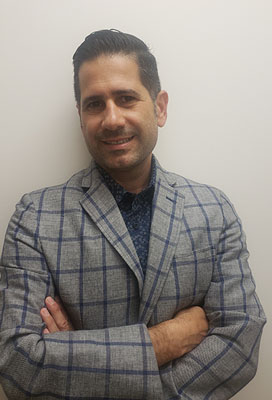 Dr. Jean-Pierre Khreich is a graduate of the Los Angeles Chiropractic College, class of 2000. He received a Bachelor's of Science in Biology from Fullerton State University in 1996.
He founded Fitness Chiropractic & Massage Therapy in Huntington Beach in 2002 inside South Coast Athletic Club.
In March, 2006 he expanded his practice to the Downtown Long Beach community with a state of the art multi-disciplinary healthcare facility that combines the Eastern and Western treatment philosophy.
He emphasizes fitness with his patients and supports many competitive athletes and teams. Dr. JP is caring, honest and loyal to his patients. He has dedicated his life to helping the needy and spreading happiness with the gift of healing.
Dr. David Chipman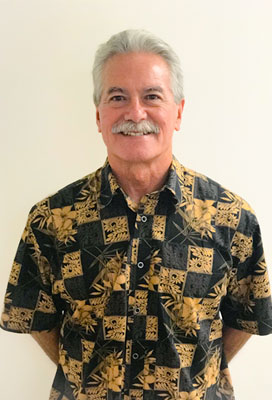 When Dr. Chipman was 25 years old, he had a serious fall while snow skiing. Even after receiving conventional care for his injuries he never fully recovered from the fall. By chance, a chiropractor friend became aware of Dr. Chipman's physical stress and offered to assist in his recovery to optimum health. This enabled him to return to skiing and scuba diving the following season. That is when Dr. Chipman realized he must return to school to pursue a career in this alternative field and to help others. Dr.Chipman utilizes two techniques: the traditional adjusting by hand and a gentler style using a spring loaded device. This device is good for infants, toddlers, the elderly, those squeamish of chiropractors and people with recent traumas.
Dr.Chipman is dedicated to his community through several service organizations such as: Kiwanis Club of Huntington Beach, Golden West College Patrons, & Westminster Celebration Dancers
Education
Southern California University of Health Sciences
Bachelors of Science, Doctor of Chiropractic
1985-1988
Honors & Awards
Recipient of the Kiwanis Rose Float Medallion 2008
Recipient of the Kiwanis Dunlap Award 2006
Recipient Golden West College Pillar of Achievement 2004
Other Organizations
Y Guides & Princesses; Father/Daughter & Father/Son, Huntington Beach Co-Ordinating Council, Golden West
Colleges CHEFS for Scholarships Committee
Dr. Eric Perez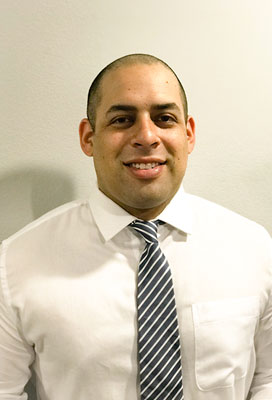 Dr. Erick Perez grew up locally and attended Long beach City College where he played football then later transferred to the University of La Verne. Dr. Perez graduated from the University of La Verne with a Bachelors of Science in Movement and Sports Science and from Southern California University of Health Science with his Doctorate of Chiropractic. During his chiropractic education, he has worked within the sports medicine clinic at the SCU, the health centers at the University of Southern California and Cal State Fullerton. Dr. Perez had the opportunity to join the sports medicine team at the 2016 AIDS lifecycle bike ride and the Special Olympic World Games. He has a passion for health/wellness, fitness and sports performance. By having the opportunity to play collegiate athletics and through schooling, he has acquired knowledge and skills that can provide optimal health care. He uses chiropractic adjustment along with soft tissue mobilization and rehabilitation exercises as a part of the treatment plan to improve your activities of daily living and/or help recover from injury. His goal is to have a positive impact on every patient and he look forward to being one of your chiropractors!